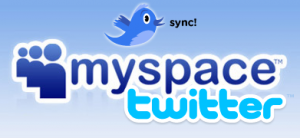 Thousands of nonprofits haven't logged into their MySpace profiles in months, or even a year or more. The majority have moved on to Facebook and Twitter. That said, MySpace is not dead. Traffic has definitely sloooowed, but the site still has 57 million monthly visitors in the United States (as of December 2009). They just don't tend to be the same folks that regularly visit Facebook and Twitter. Age, class, race, and location play a huge role in who uses what social networking sites.
I created the Nonprofit Organizations MySpace in 2006. I don't login near as often as I used to, but I have to say I still love the community there. There are lots of friendly activists and comment fairies on MySpace that do care very much about social causes and nonprofits.
I am definitely not a fan of automation on social networks. I really think each each community is unique and requires a different tone and approach. People don't want to follow "bots". They want a human behind the avatar. But in the case of MySpace, I make an exception. If you have no plans to ever use your MySpace again, or haven't logged in a while, I suggest that you do and then sync your MySpace account with Twitter:
Login > Go to My Account > Sync > Add your Twitter username.
This allows your Tweets to posted as Status Updates. They go out to all your MySpace friends and can be featured on the Home view of your profile. See left here:
www.myspace.com/nonprofitorganizations
I just synced my accounts last week and friend requests are up. Comments are up. And traffic from MySpace to my blog is way up. Another reason to sync your MySpace and Twitter accounts is that MySpace profiles more often that not still show up in the Top 10 search results on Google. Supporters searching for your organization in Google will often find your MySpace profile and see that it has been abandoned. Syncing your accounts keeps your MySpace profile active and current. You may get a few new Twitter followers out of it too.

Related Links:
10 Things Nonprofits May Not Know About MySpace
75 MySpace Best Practices for Nonprofit Organizations