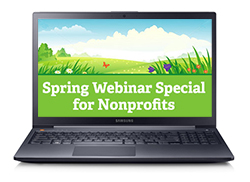 Nonprofit Tech for Good offers a series of social and mobile media webinars ideal for training social and mobile media managers, communications and fundraising staff, and volunteers and interns. Each webinar has an individual price of $50, but through June 20, 2014 they will be offered at the following discounted rates:
Buy 2 Webinars, Get 1 Free :: 3 Webinars for $100
Buy 3 Webinars Get 2 Free :: 5 Webinars for $150
Buy 4 Webinars, Get 3 Free :: 7 Webinars for $200
Buy 5 Webinars, Get 5 Free :: 10 Webinars for $250 and a Free Copy of Mobile for Good: A How-To Fundraising Guide for Nonprofits.
Please Note: All 10 webinars rotate on a regular basis so if the current Webinar Schedule does not fit your schedule you can still take advantage of this special by purchasing a combination of registrations for currently scheduled webinars and credits for future webinars not yet scheduled. For example, if you would like to purchase five webinars for $150 but can only commit to three of the currently scheduled webinars, then you will also be given two webinar credits that can easily be redeemed via email for future webinars.
Webinar registrations and credits can also be shared between multiple individuals at your organization. For example, if two staff members would like to attend five webinars each, then you can purchase 10 webinars for $250. Additionally, up to five individuals can attend the same webinar for $79 – ideal for nonprofits with staff in multiple locations.
How to Register: Spring Webinar Special for Nonprofits
1. Email the name, title, organization name, and email address of each person attending to: heather@nptechforgood.com.
If you are purchasing $250 worth of webinars, please include the name and mailing address for your free copy of Mobile for Good: A How-To Fundraising Guide for Nonprofits.
2. You will then be sent an invoice via PayPal. You can pay with Mastercard, Visa, American Express, Discover, or PayPal. Checks are only accepted for registrations of $150 or more. Sorry, no refunds.
3. If for some reason your schedule changes and you can no longer attend a webinar, you can switch dates as long as you notify Heather Mansfield before the webinar occurs.
4. Once payment is confirmed, each participant is then emailed their login and audio information from GoToWebinar.
5. A toll free number is not provided for the webinar, but attendees can listen to the audio presentation for free over their computer speakers or call into a phone number provided by GoToWebinar. Phone numbers are provided for those in the United States and Canada and Australia, Austria, Belgium, Denmark, Finland, France, Germany, Ireland, Italy, The Netherlands, New Zealand, Norway, Spain, Sweden, Switzerland, and the United Kingdom.