Thank you for taking the 2017 Global Trends in Giving Survey! 
Published in English, español, and français, the goal of the 2017 Global Trends in Giving Survey is to gain a better understanding of how donors worldwide prefer to give and engage with nonprofits, NGOs, and charities worldwide. The data will be released on September 4, 2017 in the inaugural edition of the Global Trends in Giving Report at givingreport.ngo.
Sponsored by the Public Interest Registry and researched by Nonprofit Tech for Good, the report is groundbreaking in that it is the only annual research project dedicated to studying how and why donors worldwide give to their favorite causes and charitable organizations.
The survey will be live through June 30 and your participation and promotion of the survey is greatly appreciated. Our goal is to achieve 10,000 donor respondents and any help you or your nonprofit, NGO, or charity can offer would be greatly appreciated.
For the 2017 Global Trends in Giving Survey we partnered seven organizations worldwide in order to increase the geographic range of survey respondents. Thank you to our 2017 partners!
Help Promote the Survey!
Promo Text & Graphics
Have you donated to a nonprofit within the last 12 months? Then please take the 2017 Global Trends in Giving Survey: http://www.givingreport.ngo

Nonprofits worldwide want to know more about why you give and how you prefer to give. Please take the survey: http://www.givingreport.ngo

The 2017 Global Trends in Giving Report will provide insight into how donors worldwide prefer to give and why: http://www.givingreport.ngo
Right-click to Download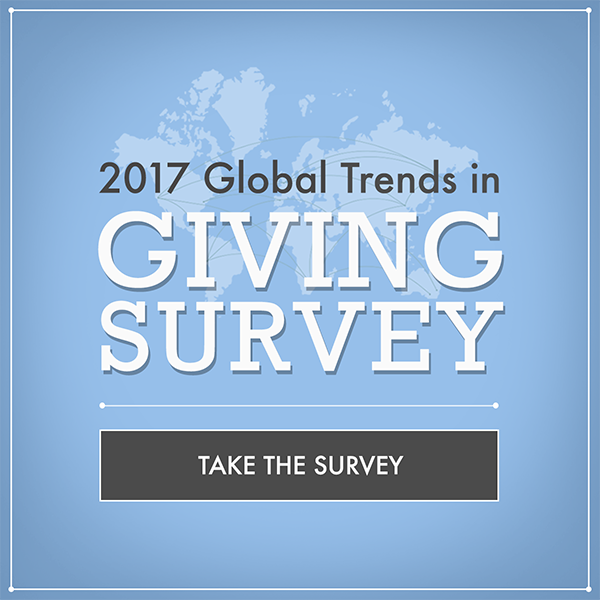 600×600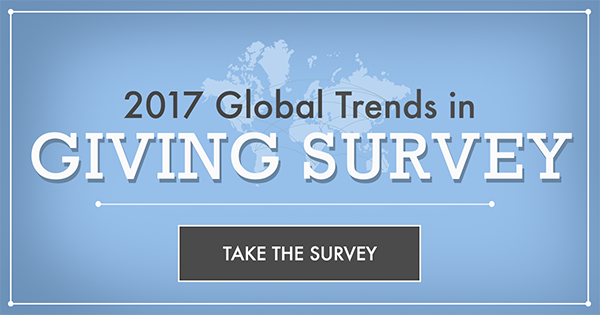 600×315

600×200