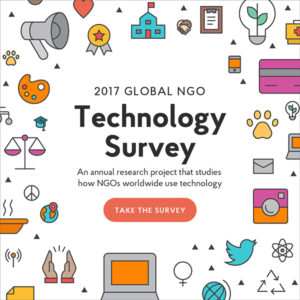 Now in is its third year of production, the Global NGO Technology Report is groundbreaking in that it is the only research project dedicated to studying how charitable organizations worldwide use web and email communications, online and mobile fundraising tools, and social and mobile media to engage and inspire their donors and supporters.
If you work for a NGO, nonprofit, or charity, please volunteer 4-7 minutes of your time to take the the 2017 Global NGO Technology Survey. The survey data will become the foundation of the 2018 Global NGO Technology Report (to be released January 29, 2018) and the report will only be as good as the data it represents. We appreciate participants from all over the globe, but we especially need the participation of nonprofits, NGOs/ONGs, and charities based in Asia, Latin America, and the Middle East.
For 2017, we added Arabic and Portuguese (in addition to English, French, and Spanish) to increase the diversity and geographical range of survey respondents. We also expanded our partnerships to include 12 fantastic organizations who will be promoting the survey to NGOs, nonprofits, and charities throughout the globe.
Our partnership model is simple and innovative: in exchange for promoting the survey to NGOs in their country, our partners receive the data (100% anonymous) and a matching infographic for their country. We only partner with one organization per country and we hope to maintain and build these partnerships for years to come. The idea behind the report and the partnership model is to expand nonprofit technology research worldwide because the majority of current research is based on nonprofit data from North America, Europe, and Australia which is not applicable to most nonprofits, NGOs, and charities located in developing and emerging nations.
The Public Interest Registry – the nonprofit that operates the .org, .ngo and .ong domains – is the sole sponsor the report. Thank you PIR!