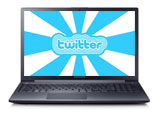 Date: Tuesday, January 7
Time: 1pm-2:30 EDT
Cost: $50 or Year-End Webinar Special
Presented by: Heather Mansfield
View: Complete Webinar Schedule
This webinar begins with a general introduction to Twitter and then quickly moves on to demonstrate how nonprofits can use the site to increase their supporter base, website traffic, e-newsletter subscribers, online donors, and overall visibility on the Internet. Much more than a site for pushing news, Twitter is very much about participating in online conversation, being authentic, having personality, and knowing what content your followers want from you on Twitter. The webinar demonstrates in real-time the intricacies of successfully Tweeting, Mentioning, Replying, Retweeting, Listing, and using #Hashtags.
In addition, the webinar showcases ten of the best Twitter Apps for nonprofits and how they can be used by your organization to launch innovative Twitter campaigns. The webinar also shows click-by-click how to successfully set-up and custom-design a Twitter profile for your organization, discusses best practices, and features numerous nonprofits that excel in their use of Twitter.
Please Note: This webinar will not be recorded, however attendees are sent a set of comprehensive notes within 24 hours of the end of the presentation and a Q&A  chat occurs at the end of the webinar.
1. Email the name, title, organization name, and email address of each person attending to: heather@nptechforgood.com
2. You will then be sent an invoice from PayPal. You can pay with Mastercard, Visa, American Express, Discover, or PayPal. Checks are only accepted for registrations of $150 or more. Sorry, no refunds.
3. If for some reason your schedule changes and you can no longer attend a webinar, you can switch dates as long as you notify Heather Mansfield before the webinar occurs.
4. Once payment is confirmed, each participant is then emailed their login and audio information from GoToWebinar.
5. A toll free number is not provided for the webinar, but attendees can listen to the audio presentation for free over their computer speakers or call into a phone number provided by GoToWebinar. Phone numbers are provided for those in the United States and Canada and Australia, Austria, Belgium, Denmark, Finland, France, Germany, Ireland, Italy, The Netherlands, New Zealand, Norway, Spain, Sweden, Switzerland, and the United Kingdom.
On a PC
Internet Explorer 7.0 or newer, Mozilla Firefox 4.0 or newer or Google Chrome 5.0 or newer (JavaScript enabled)
Windows 8, 7, Vista, XP or 2003 Server
Cable modem, DSL or better Internet connection
Participants wishing to connect to audio using VoIP will need a fast Internet connection, a microphone and speakers.
On a Mac
Safari 3.0 or newer, Firefox 4.0 or newer or Google Chrome 5.0 or newer (JavaScript enabled)
Mac OS X 10.6 – Snow Leopard or newer
Cable modem, DSL, or better Internet connection
Participants wishing to connect to audio using VoIP will need a fast Internet connection, a microphone and speakers.
On an iPad, iPhone or Android device
Free GoToWebinar app from the iTunes App Store or Google Play
WiFi connection recommended to use VoIP