According to Shop.org's annual Holiday 2014 Pre-Holiday Retailer and Consumer Study, two out of five U.S. consumers started their holiday shopping in October. The study also found that online shoppers plan to spend 16 percent more than brick-and-mortar shoppers this holiday season on gifts, decorations, greeting cards, and food. All told, online shoppers expect to spend an average of $931.75. Conscious consumers can channel some of their spending power into creating good in the world by shopping at any of the 25 online stores listed below. Please give back this holiday season by shopping ethically.
---
1. UNICEF Market
2. Ten Thousand Villages

3. St. Jude's Giftshop
4. Smithsonian Shop
5. Sierra Club Store
6. Sevenly
7. SERRV Store
8. (RED) Shop
9. Punjammies
10. Peacekeeper Cause-Metics
11. ONE HOPE Wine and Gifts
12. National Wildlife Federation Store
13. National Public Radio Shop
14. National Park Foundation Store
15. National Geographic Store
16. MoMA Store
17. LACMA Store
18. Human Rights Campaign Store
19. Good Buy Shop
20. Global Goods Partners
21. First Book Store
22. Dancing Deer Baking Co.
23. Candles with a Cause
24. Best Friends Animal Society Store
25. ASPCA Store
---
Mobile for Good: A How-To Fundraising Guide for Nonprofits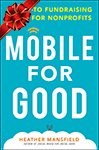 Based on more than 20 years of experience and 25,000+ hours spent utilizing mobile and social media, Mobile for Good: A How-To Fundraising Guide for Nonprofits is a comprehensive 256-page book packed with more than 500 best practices. Written on the premise that all communications and fundraising are now mobile and social, Mobile for Good is a step-by-step how-to guide for writing, implementing, and maintaining a mobile and social fundraising strategy for your nonprofit.