The National Retail Federation estimates that online sales will grow 6 to 8 percent this holiday season. That translates into billions of dollars in consumer spending that can empower philanthropy and social good. By shopping at any of the 27 online stores listed below, conscious consumers can channel some of their spending power into the nonprofit sector. Or, if you prefer to donate to a nonprofit in the name of a friend, colleague, or loved one, you can purchase a tribute holiday gift. Either way, give back this holiday season and shop for good.
---
1. UNICEF Market

2. Syracuse Cultural Workers Store

3. Stand Up to Cancer Store


4. Smithsonian Store

5. Society B.
6. Skatistan Store

7. SFMoMA Museum Store

8. Serrv Store

9. Pura Vida Bracelets

10. PETA Store

11. PBS Kids Store

12. ONE Store

13. ONEHOPE Wine

14. National Wildlife Federation Store

15. NPR Store

16. National Park Posters Store

17. National Geographic Store

18. Habitat for Humanity Store

19. Greenheart Shop

20. FEED Projects

21. Everything Happy

22. Conscious Step

23. Brave Collection Store

24. Boot Campaign Store

25. Better World Bookstore

26. Art Institute of Chicago Museum Shop

27. ACLU Store

---
Mobile for Good: A How-To Fundraising Guide for Nonprofits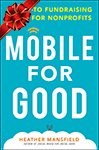 Based on more than 20 years of experience and 25,000+ hours spent utilizing mobile and social media, Mobile for Good: A How-To Fundraising Guide for Nonprofits is a comprehensive 256-page book packed with more than 500 best practices. Written on the premise that all communications and fundraising are now mobile and social, Mobile for Good is a step-by-step how-to guide for writing, implementing, and maintaining a mobile and social fundraising strategy for your nonprofit.