Snapchat is a mobile app where users share snaps with one another, but unlike other visual social networks, the snaps disappear once they are viewed. Launched in 2011, many nonprofits have been hesitant to experiment with a mobile social network where content disappears and where no traditional "Follow" functionality exists. But with 100 million daily active users and the launch of Stories (a collection of snaps that can be viewed for 24 hours), a few early adopter nonprofits are experimenting with Snapchat and their efforts are worth watching.
The vast majority of nonprofits will find Snapchat challenging. You need unique, real-time content that appeals to Snapchat's teen and millennial user base and that requires time and resources that many nonprofits simply do not have. At the very least nonprofit social media managers should set up an account, reserve their username, and "Add" early adopter nonprofits in order to study how the app works and observe what the early adopters are doing on Snapchat. It will be interesting to see if in time Snapcash becomes useful for fundraising or if text or web-based content becomes more integrated into the Snapchat tool set.
How to Add Friends on Snapchat Using Snapcodes
If your nonprofit decides to become active on Snapchat, you can build a following by either promoting your username (dosomething, onecampaign, savethechildren, unicef, WWF_DK) or your Snapcode (see examples below) which functions as QR code within the Snapchat app. Snapchat users can then add your nonprofit as a friend by searching for your username or by tapping a screenshot of your nonprofit's Snapcode in their Camera Roll:
How to Create a Custom Snapcode for Your Nonprofit
To avoid looking like exactly like millions of other Snapcodes (yellow background, black dots, white ghost), it's highly recommended that you customize your nonprofit's Snapcode:
Using your Snapchat login, download a .PNG file of your Snapcode.
Use a photo editing such as Canva or Photoshop (to change the background color of your Snapcode) to drag and drop your nonprofit's logo or avatar inside of the Snapchat ghost. You must stay within the black lines of the white ghost for your Snapcode will work.
Save your new Snapcode as a .JPEG, .GIF, and/or .PNG and then promote it online and in email.
You can also use snaptageditor.com to easily create a custom Snapcode.
Five Examples of Custom Snapcodes
To add these nonprofits and Nonprofit Tech for Good on Snapchat, simply screenshot the Snapcodes and then add them in the Snapchat app.
1. CARE
2. Get Schooled
3. NPR
4. Nonprofit Tech for Good
5. Society for Science
---
Mobile for Good: A How-To Fundraising Guide for Nonprofits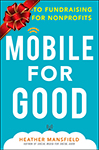 Based on more than 20 years of experience and 25,000+ hours spent utilizing mobile and social media, Mobile for Good: A How-To Fundraising Guide for Nonprofits is a comprehensive 256-page book packed with more than 500 best practices. Written on the premise that all communications and fundraising are now mobile and social, Mobile for Good is a step-by-step how-to guide for writing, implementing, and maintaining a mobile and social fundraising strategy for your nonprofit.