As a follow-up to 25 Online Gift Stores That Benefit Nonprofits, below are 10 holiday gift programs that benefit nonprofits. Gifts range from symbolic adopt-an-acre of a national park gifts to funding a classroom project in a low-income community. These gift programs are ideal for socially and environmentally conscious holiday shoppers that would prefer their holiday spending directly empower nonprofits. They also make excellent gifts for activists and advocates of global development, environmental conservation, and wildlife protection. 
---
1. World Wildlife Gift Center
2. Wilderness Society Adoption Center
3. Save the Children Gifts of Joy
4. Oceana Marine Wildlife Adoption and Gift Center
5. Heifer International Holiday Gifts

6. Natural Resources Defense Council Green Gifts
7. Nature Conservancy Gifts of Nature
8. GlobalGiving Gift Cards
9. DonorsChoose.org Gift Cards
10. Compassion International Gift Catalog
---
Mobile for Good: A How-To Fundraising Guide for Nonprofits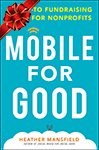 Based on more than 20 years of experience and 25,000+ hours spent utilizing mobile and social media, Mobile for Good: A How-To Fundraising Guide for Nonprofits is a comprehensive 256-page book packed with more than 500 best practices. Written on the premise that all communications and fundraising are now mobile and social, Mobile for Good is a step-by-step how-to guide for writing, implementing, and maintaining a mobile and social fundraising strategy for your nonprofit.