For environmentally friendly and socially conscious holiday shoppers that prefer to give donations to nonprofits as holiday gifts, the 10 holiday tribute gift programs listed below are a good starting point for your holiday shopping. Ranging from wildlife conservation to refugee relief, tribute gifts make excellent holiday gifts for friends, family, and work colleagues. If you prefer to give traditional gifts, you can also shop for good at 27 online stores that benefit nonprofits. Either way, put your consumer spending power to work fostering social good this holiday season.
---
1. CARE Packages

2. Defenders of Wildlife Adoption Center

3. Elephant Sanctuary in Tennessee Adoptions

4. International Rescue Committee Rescue Gifts

5. National Audubon Society Adoption Catalog

6. Nothing But Nets Gift Nets

7. Oxfam Unwrapped Catalog

8. Save the Children Gifts of Joy

9. Wilderness Society Adoption Catalog

10. World Vision Gift Catalog

---
Mobile for Good: A How-To Fundraising Guide for Nonprofits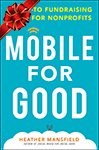 Based on more than 20 years of experience and 25,000+ hours spent utilizing mobile and social media, Mobile for Good: A How-To Fundraising Guide for Nonprofits is a comprehensive 256-page book packed with more than 500 best practices. Written on the premise that all communications and fundraising are now mobile and social, Mobile for Good is a step-by-step how-to guide for writing, implementing, and maintaining a mobile and social fundraising strategy for your nonprofit.