Nonprofit Tech for Good experimented with Periscope for live streaming for the first time during the 2015 Independent Sector Conference. Like all new tools there is a learning curve, but for nonprofit social media managers that spend a good portion of the their time on social and mobile media, Periscope is intuitive, easy to use, and a welcome break from the daily routine of posting, tweeting, sharing – repeat.
Our Periscope use was basic. We [myself and Megan Soffer and Dave Stewart from OnGood] streamed an interview and a short 20-minute session, but with creativity and time for planning, Periscope streaming as a storytelling tool is untapped and a future fundraising success story yet to be told. Streaming from events is an obvious fit for Periscope, but site visits and interviews with communities served, that's where the real power of Periscope will unfold.
In the meantime, using Periscope to report live from your events is good practice and live streaming is different from other types of content. Below are 12 tips we gained from our first Periscope experiment:
1. Have a two-person team for streaming interviews, site visits, and events.
Unless you are extremely charismatic, super skilled in selfies, and terrifically ambidextrous with a smartphone, you will need a tw0-person team for Periscoping interviews and from events and site visits. During interviews and site visits one person needs to take on the role of reporter while the other streams the interview and assumes the role of producer. When streaming a speech or presentation, one person streams and monitors Periscope engagement while the other live tweets posts on Instagram. For live streams to be well-produced, the mental focus of two individuals is required.
2. Use a tripod when recording speeches and presentations.
When streaming a speech or presentation, or series of speeches and presentation, a steady hand isn't enough. Your nonprofit should invest in tripod for consistent streaming, such as the Accmor Rhythm Pro or the JOBY GripTight GorillaPod. This also frees up your hands to engage with viewers on Periscope.
3. Be cognizant of light and sounds in the area where streaming.
When choosing a location to conduct an interview or an angle from which to record a speech or presentation, take in the sounds of your surroundings to avoid distracting ambient noise and choose a colorful, interesting backdrop. Ideally, your nonprofit's branding is in the background. That said, Periscope is meant to be off the cuff. If an unexpected popcorn machine starts popping or string quartet starts playing, make light of it and simply move the location of your interview in real-time. It will add character to your interview.
4. Promote the stream in advance on social media and in email.
Your viewer count will be low for your Periscope stream unless you promote the stream in advance. Write a blog post summarizing your Periscope plans, list the date(s) and approximate time(s), and promote the blog post in your email newsletter and on social media with a promotional image. Make sure you link to your Periscope Profile, such as periscope.tv/nonprofitorgs and Twitter username.
5. Create a hashtag for your stream campaigns.
In general, it's a best practice to limit the number of hashtags for your event. Having multiple hashtags for different sessions, for example, tends to work against your event and makes it less likely that your primary hashtag will trend and gain followers. You need one primary hashtag for your event that be promoted heavily in the months and weeks leading up to the event. However, having a #live hashtag is worth experimenting with (such as #WWFLive if the World Wildlife Fund was to report live from events or from the field) and will make it easier for you to promote your Periscope streams in the weeks leading up to the event.
6. Don't be too scripted and embrace the unexpected.
Streaming speeches and presentations is pretty straightforward (and a little boring), but interviews with speakers and attendees can be more engaging and fun. Have two to three questions ready for an interview, but see where the interview goes and don't be afraid to push the envelope a little bit. Show some personality and accept that you will make mistakes, but with each stream you'll get better. You're essentially becoming an instant broadcast reporter and one-person film crew without any professional training.
7. Film close-ups during interviews.
The Periscope screen is portrait. When interviewing you'll have to shift between close-ups on the interviewer or the person being interviewed.
8. Broadcast directly into Twitter.
When you go live, make sure the Twitter bird is selected so that your stream will be embedded inside your "#Live on Persicope" tweet (as well as streamed within the Periscope app).
9. Live tweet and Instagram during the stream.
If tough to live tweet and stream at the same time during interviews, but when streaming speeches or presentations on a tripod you'll have an extra hand to tweet and gram provided you have multiple devices. Yes. This is advanced social media.
10. Take questions from the Periscope audience during the stream.
While you are streaming, questions and comments will come in. During the interview respond to the questions or at the en of session or speech set aside time for a live Q&A.
11. Show the Periscoper.
Take a second or two and flip the screen and introduce the person behind the camera. The Periscoper will also be the voice of the questions and comments coming from the Periscope community, so your viewers will be curious about what he or she looks like.
12. Upload the stream(s) to YouTube or social networks after the live event.
On Periscope your streams will only be viewable on your channel for 24 hours. However, there is the option to save a recording of your stream to your camera roll which can then be uploaded to YouTube or Facebook and promoted in post-event follow-up content.
---
Mobile for Good: A How-To Fundraising Guide for Nonprofits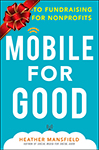 Based on more than 20 years of experience and 25,000+ hours spent utilizing mobile and social media, Mobile for Good: A How-To Fundraising Guide for Nonprofits is a comprehensive 256-page book packed with more than 500 best practices. Written on the premise that all communications and fundraising are now mobile and social, Mobile for Good is a step-by-step how-to guide for writing, implementing, and maintaining a mobile and social fundraising strategy for your nonprofit.