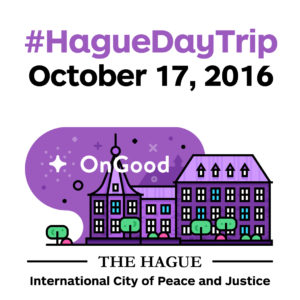 An Instagram Photo and Video Essay
by Heather Mansfield
For many years I've wanted to visit The Hague, Netherlands. 🇳🇱 Known as the International City of Peace and Justice, there are more than 160 NGOs in Den Haag working to make the world a better place. I was in the Netherlands for the International Fundraising Congress (on behalf of OnGood.ngo) and without a scheduled agenda and only the hope of meeting some NGOs staff, I took the train down from Amsterdam and wandered the streets with a smartphone in hand and an international data plan.

Next, I stumbled across the Dutch office of the International Fund for Animal Welfare (IFAW) and though they were not expecting me, they were very welcoming and a pleasure to spend time with. All quite busy working on behalf of the world's animals, the IFAW staff took the time to take a group photo. Dank je wel! 🐧

Rianne Haaijema, Project Coordinator for IFAW's Blijf van mijn Dier Program, shared how the organization finds temporary homes for the pets of domestic abuse victims. Often women will not leave an abuser because they do not want to leave their pets behind or the abuser uses the pet for blackmail, so IFAW fosters the pets until the woman is secure in a new home and a new life free from abuse. 🐶

After IFAW, I wandered down the Javastraat to the world famous Peace Palace which is home to the International Court of Justice. The Peace Palace is always closed on Mondays, so I could only catch a glimpse through its gates. ☮ + ⚖

Upon the recommendation of the IFAW, I then went in search of World Animal Protection. Again unannounced, I rang the buzzer and met Julie Middelkoop, Head of the organization's Wildlife – Not Entertainers Campaign. She was quite thrilled – as were many of you – about TripAdvisor's announcement to no longer sell tickets to wildlife attractions, such as elephant rides, swimming with dolphins, and tiger selfies! 🐘 🐬 🐅

World Animal Protection had gigantic photos of animals throughout their office. This one of donkeys caught my eye. I have a soft spot for donkeys after seeing so many of them on a recent trip to Morocco. In Fes there is an amazing and very well known NGO called American Fondouk which provides free vet care for donkeys – a critical mission in a city where donkeys outnumber cars and poor farmers most often cannot afford vet services. 🇲🇦

It was closing time in The Hague and I was too late to the Oxfam Novib office to meet anyone, but a poster in the window reminds us all to remember Afghanistan – one of the poorest countries in the world due to decades of conflict and disasters. 🇦🇫
Finally, a photo of myself taken by a very nice coffee barista on my way back to the train station. I rarely post photos of myself as it feels vain to do so (that's the Gen Xer in me), but Rianne and Julie were both nervous to do the Instagram interviews, so I figured I'd better practice what I preach. 📷